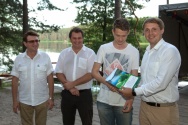 SPECIAL SECTION "IT-PROFILE" HELD ON SPORTS CAMP "OLYMPIETS"
From 14th to 22nd of June special section "IT-profile" held on sports camp "Olympiets" for students of 7-10 forms of State Autonomous General Institution of the Republic of Mari El "Bauman Lyceum".
There were 3 sections: mathematics, informatics, and physics. Additional educational programs "Behind pages of algebra course book for 8-9 forms" were aimed at deepening of school course of mathematics.
The aim of section "Methods of program design to solve olympiad tasks" was to cause an interest to program design among students, to give material for work and ensure decent knowledge of methods of program design to elaborate and implement effective tools to solve tasks of high difficulty.
"Experimental physics on handmade equipment" enhanced school course on physics with experiments that we can hold with handmade equipment.
At the end of the course school students presented research projects. On June 21 solemn closing ceremony of the first special section "IT-profile" took place.
Mikhail N. Shvetsov, Rector of Mari State University, Deputy of State Council of the Republic of Mari El, Chairman of the Council of Rectors of educational institutions of the Republic of Mari El, noticed the particular importance of similar events for talented young people aimed at broadening their horizons.
Gregory E. Peysakhovich, Director of State Autonomous General Institution of the Republic of Mari El "Bauman Lyceum", performed with welcoming address and thanked arrangers and staff of Mari State University for the chance to show their knowledge, erudition, to get new skills.
According to Anatoly N. Leukhin, Vice-rector for scientific and innovative affairs, this kind of work has been held for the third time and has been demonstrated as an effective way of cooperation in the system "School-university". All participants were granted certificates.
"We are grateful to lecturers and administration of the university for great opportunity to learn something new and interesting in the sphere of mathematics, informatics and physics", - school students of "Bauman Lyceum" expressed their opinion.
Participants were very satisfied with this event, shared pleasant impressions about their holiday and results of their research. Everyone noticed it`s great and very interesting to learn and to have a rest on Yalchik!